Description
Description
Flavor master
Adopting the same EtchipTM coil, Uppen Plus maintains the extreme taste experience of the Uppen Pod. With a perfect, original and fresh taste, Uppen Plus satisfies you from the very first puff. Just like the classic Uppen Pod, Uppen Plus Pod is ultra versatile.

Freshness protector
The Uppen Plus' metal cap effectively protects e-liquid from exposure to the air when not in use. Your e-liquid will maintain its original freshness, even after several days of no vaping.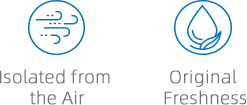 Hygiene guardian 
The Uppen Plus cap protects your pod from dust and dirt. Meanwhile, the Pod mouthpiece antibacterial rate is above 99.9%. Simply enjoy a dust-free, bacteria-free experience.
Faster charging, less waiting
2A fast charging through the Type-C port 30 mins fully charged

Satisfying magnetic cap retainer
The magnetic pull on the auto-stow cap is perfectly balanced to create a tactile on/off experience, for a little extra joy in the details.
Specifications
Size: 135.5mm x 17mm
Battery: 600mAh
Capacity: 2.0ml
Resistance: 1.2ohm
Average Output: 10W
Capacity: 2.0ml
MINIMUM RRP - £24
Payment & Security
Your payment information is processed securely. We do not store credit card details nor have access to your credit card information.